The 4th MEC Hackathon China Kicks off
Apr 27, 2021
[Beijing, China, April 27, 2021] At the China Cloud Network Conference 2021 held recently, the SDN/NFV/AI Standards and Industry Promotion Committee (the Committee) and Huawei jointly launched the 4th MEC Hackathon China. This contest aims to explore potential commercial scenarios and business models of the MEC, fuel MEC application innovation, and further integrate 5G technologies and industries, unlocking more value.
Opening ceremony of the 4th MEC Hackathon China
MEC is a key enabler driving digital transformation of diverse industries, including smart transportation, smart energy, smart education, and smart healthcare. Focusing on the commercial use of MEC in various industries, the MEC Hackathon inspires participants from universities, open-source communities, vertical sectors, and the telecom industry to innovate MEC applications, so as to foster more solutions for large-scale commercial use.
Huawei, as one of the sponsors of this contest, will continue to collaborate with China's three major telecom operators, as well as the China Communications Standards Association (CCSA), the SDN/NFV/AI Standards and Industry Promotion Committee, the European Telecommunications Standards Institute (ETSI), and the IMT-2020 (5G) Promotion Group to advance the standardization and certification of MEC applications. Through openness and extensive collaboration, all parties will mutually benefit and together, will boost the growth of MEC.
In this contest, all participants are recommended to develop their applications on EdgeGallery, the industry's first open-source 5G MEC platform. The developed applications will be debugged and then demonstrated at the MEC lab of the Committee. In addition, teams can exchange their ideas with operators, telecom equipment vendors, and industry partners during the contest, sparking innovation and driving forward the commercial success of 5G in various industries.
The 3rd MEC Hackathon China Award Ceremony was also held. Among the 13 teams enrolled in the final contest, six were awarded the "Excellence Award", covering multiple industries such as automatic driving, smart manufacturing, and smart smelting. The awards went to Zhejiang Dahua Technology Co., Ltd., DALU Robotech Technology Co., Ltd., Changsha Jimu AI Technology Co., Ltd., XENIRO (Shanghai) Co., Ltd., China United Network Communications Group Co., Ltd., and Hangzhou Ruitu Information Technology Co., Ltd.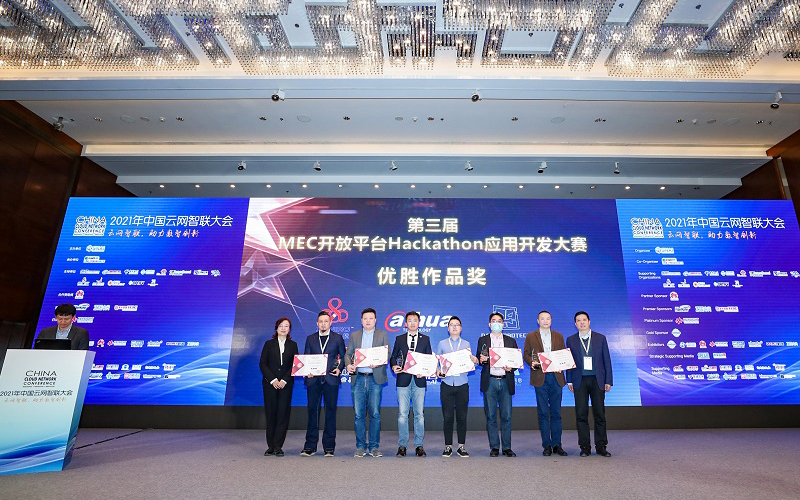 Winners receiving the "Excellence Award" for their entries at the 3rd MEC Hackathon China