Financial Performance
Healthy operating results, strong financial position
Revenue

858.8

CNY Billion

19.1%

Net profit

62.7

CNY Billion

5.6%

Cash flow from operating activities

91.4

CNY Billion

22.4%
Revenue by business segment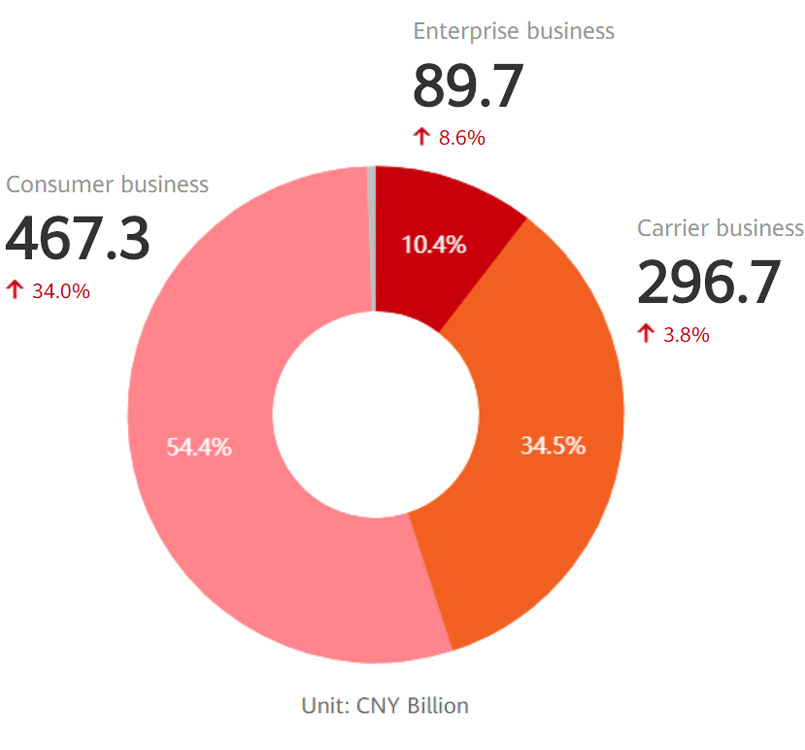 R&D Investment
Continuous investment in technological innovation & research
>10%

Percentage of annual sales re-invested into R&D

96,000+

Employees in R&D, accounting for 49% of Huawei's total workforce

131.7

CNY Billion

Spent on R&D in 2019

600+

CNY Billion

Spent on R&D over the past decade
Research and Innovation
85,000+

Active patents held by Huawei as of December 31, 2019

15,000

Employees engaged in basic research
Business Highlights in 2019
As the digital economy sweeps the globe, Huawei focuses on ICT infrastructure and smart devices to enable the digital and intelligent transformation
Driving Ubiquitous Connectivity
A leader in the global commercial deployment of 5G: We established 5G joint innovation centers with carriers in Europe, aiming to continuously drive the commercial deployment and service innovation of 5G.
Connecting the unconnected: RuralStar series solutions have provided mobile Internet services for more than 40 million people living in remote areas of over 50 countries and regions.
Enabling Pervasive Intelligence
We launched the Arm-based CPU, the Kunpeng 920, and the TaiShan series of servers and cloud services powered by the Kunpeng 920.
We launched the world's most powerful AI processor – the Ascend 910 – as well as an all-scenario AI computing framework, MindSpore. We also launched Atlas 900, the world's fastest AI training cluster, and HUAWEI CLOUD Ascend-based cluster services.
Delivering a Personalized Experience
An open Huawei Mobile Services (HMS) ecosystem: We help app developers deliver innovative app experiences to 600 million Huawei device users around the world. In addition, over 55,000 apps have been integrated with HMS Core.
Operating systems: We leveraged our breakthroughs in underlying software technologies, such as compilers and other distributed technologies, to shift from upper-layer user interface (UI) optimization to all-scenario device operating system development.
Building a Digital Platform
We built the cloud-based Horizon Digital Platform by integrating multiple new ICT technologies including IoT, AI, big data, video, converged communications, and geographic information system (GIS).
More than 700 cities and 228 Fortune Global 500 companies – 58 of which are Fortune 100 companies – have chosen Huawei as their partner for digital transformation.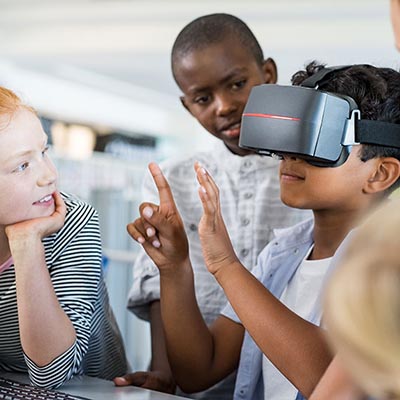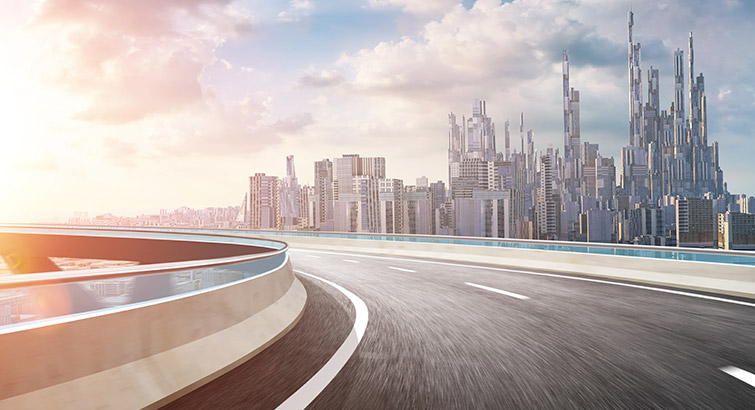 Sustainable Development
Committed to building a sustainable, fully connected, and intelligent world
Openness & Transparency
In 2019, Huawei made a concerted effort to enhance transparency and communicate more proactively with the world:
We welcomed more than 4,500 journalists, more than 3,000 experts and researchers, and more than 1,000 government delegations from around the world to visit our headquarters in Shenzhen.
Huawei executive team has continued to engage with the global community through a number of external events and speaking opportunities.
We have gone into great detail with the public about our ownership and governance, subjecting our ownership structure, shareholding files, and registry of shareholding employees to outside scrutiny.
Beyond proactive engagement, we have also turned to the courts to defend our legitimate rights and interests through legal action. Through the subsequent discovery processes and court hearings, we presented hard facts and evidence to back up our claims.
Founded in 1987, Huawei is a leading global provider of information and communications technology (ICT) infrastructure and smart devices. We are committed to bringing digital to every person, home and organization for a fully connected, intelligent world. We have more than 194,000 employees, and we operate in more than 170 countries and regions, serving more than three billion people around the world.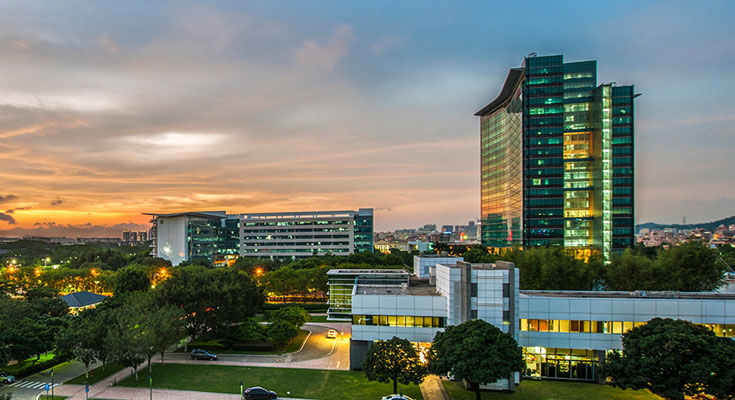 Huawei has a robust corporate governance system. Shareholding employees elect 115 representatives to form our Representatives' Commission. This Commission then elects the Chairman of the Board and the remaining 16 board directors. The Board of Directors elects four deputy chairs and three executive directors. Three deputy chairs take turns serving as the company's rotating chairman.
The rotating chairman leads the Board of Directors and its Executive Committee while in office. The board exercises decision-making authority for corporate strategy and operations management, and is the highest body responsible for corporate strategy, operations management, and customer satisfaction.
Meanwhile, the Chairman of the Board chairs the Representatives' Commission. As Huawei's highest decision-making body, the Commission makes decisions on major company matters, like profit distribution, capital increases, and the elections of members of the Board of Directors and the Supervisory Board.
Huawei is a private company wholly owned by its employees. Through the Union of Huawei Investment & Holding Co., Ltd., we implement an Employee Shareholding Scheme involving 104,572 employees. Only Huawei employees are eligible to participate. No government agency or outside organization holds shares in Huawei.
Externally, we rely on our customers and partners. Customers are at the center of everything we do, and we create value for them with innovative products. Internally, we rely on our hard-working and dedicated employees. At Huawei, those who contribute more get more.
We work with stakeholders including suppliers, partners, industry organizations, open source communities, standards organizations, universities, and research institutes all over the world to cultivate a broader ecosystem that thrives on shared success. In this way we can help drive advancements in technology and grow the industry as a whole.
We create local employment opportunities, pay taxes, and comply with all applicable laws and regulations in the countries where we operate. We also help local industries go digital, and openly engage with governments and the media.