Connected Vehicle
---
The early functional connected vehicle cannot meet the varied requirements of car owners around the world for different applications and customized mobility services. This results in a low customer renewal rate, higher construction and operations costs, and a low assembly rate. In general, without a unified platform, different vehicles have to access different service platforms. Isolated chimney-style systems result in making maintenance complex and management expensive. The platform cannot handle the demands for highly concurrent and frequent access if up to 200,000 vehicles are accessed. As the system has been running for years, it is difficult to expand capacity for new services.
At present, the number of green vehicles is rapidly growing. Internet corporations continue exploring automobile manufacturing and unmanned driving technologies. The sharing economy has become popular, and related national regulatory policies have been issued. All these drive the automobile industry to develop strategies for four disruptive trends (connectivity, electrification, sharing, and automation). The automobile industry aims to meet diversified market requirements through the digital transformation of vehicle products and services.
The key to the successful digital transformation of a car manufacturer is to having a digital cloud platform. Ecosystem developers and industry application partners are aggregated based on the platform. Vehicle products and services can be sold across countries in the global market. Car manufacturers can provide personalized mobility services to car owners and users and comply with mandatory regulations of local governments.
---
Huawei Connected Vehicle Solution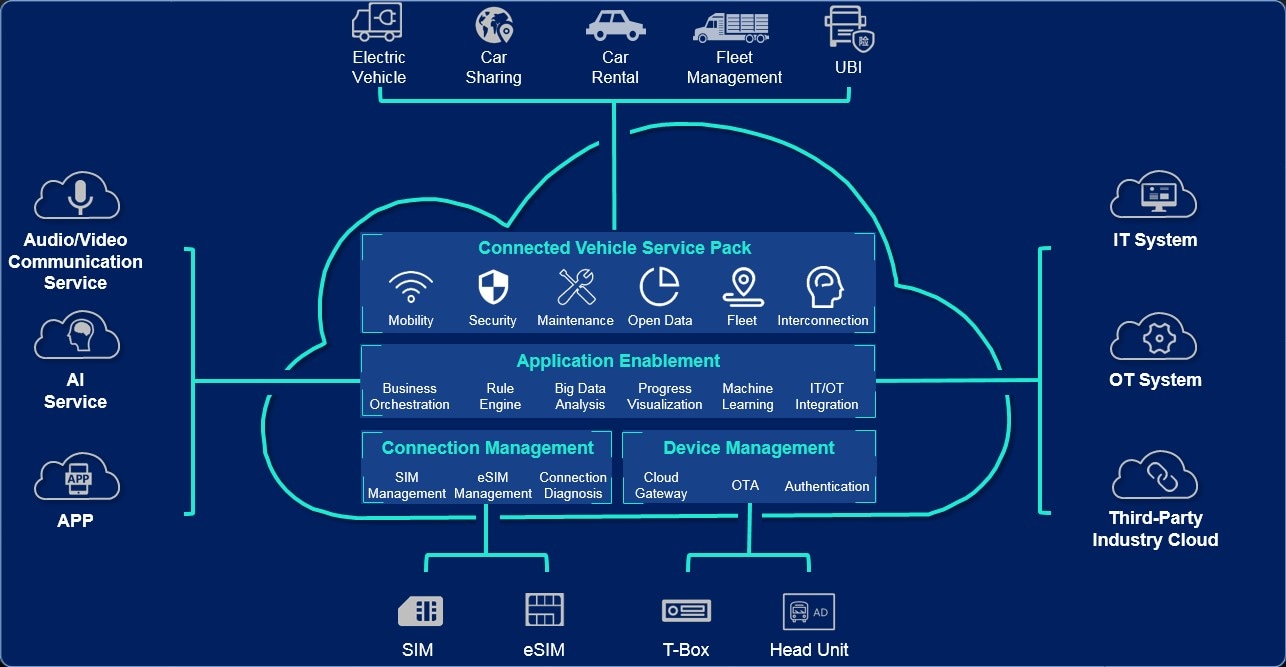 The Huawei Connected Vehicle Solution is enabled by the OceanConnect IoT platform. It provides services based on Huawei's global public clouds or on joint clouds with operators. The OceanConnect Connected Vehicle Solution aims to help the digital transformation of car manufacturers. Using the OceanConnect IoT platform, the vehicle data is transmitted to the cloud in a secure, reliable, and efficient manner. Vehicle-oriented digital assets are generated to open to a variety of upper-layer applications. In addition, the solution is capable of evolution to cellular vehicle-to-everything (C-V2X) and artificial intelligence (AI).
---
The Huawei Connected Vehicle Solution provides a wide range of service enablement suites for upper-layer applications (Connected Vehicle application platform and third-party applications). The service enablement suites include mobility services, maintenance services, fleet management, time-based leases, and user-based insurance (UBI). This future-oriented solution also provides predictive maintenance, advanced driver assistant system (ADAS) analysis, AI (such as personal assistant), vehicle-road coordination services, and fault demarcation capabilities.
The Huawei Connected Vehicle Solution provides various APIs to help application developers reduce development costs, meet flexible service customization, and launch new services rapidly. The solution enables global integrated vehicle access and management, such as vehicle secure access and authentication, bidirectional certificate encryption, device management, remote control, and firmware or software over the air (FOTA/SOTA). It supports tens of millions of terminal connections and concurrent processing of 2 million messages. In addition, end-to-end channel encryption protects user information security.
Car manufacturers can control core technological and data assets through the basic platform. In addition, the solution enables IoT big data analysis to maximize the value of application data, including vehicle status, location data, and driving behaviors.
---
Success Stories
Partnership with FAW Qiming: Huawei has provided FAW Group Corporation with the Connected Vehicle Solution based on the OceanConnect IoT connection management platform. Huawei constructed the Connected Vehicle platform using the cloud, pipe, and device system architecture to meet the service transformation requirements of FAW Group Corporation. The Connected Vehicle platform integrated IoT, cloud computing, and big data technologies to support Connected Vehicle application and construction and a fast service rollout. Huawei OceanConnect supports high concurrent vehicle access requests. It can report the vehicle status and accurately track a million vehicles in real time. The OceanConnect Connected Vehicle Solution can enable time-based lease of different electric vehicle models for different application fields, FAW Jiefang fleet management, and other services. The solution can also be extended to new fields such as green car safety monitoring and R&D big data analysis, helping FAW Group Corporation transform their services and explore connected vehicle market opportunities.
Partnership with Groupe PSA: Groupe PSA, a French automobile company with global reach, has launched their "Push to Pass" strategy for 2016 to 2021. They aim to make the Group a great car maker with cutting edge efficiency and a preferred mobility service provider. Groupe PSA hopes to use Connected Vehicle technologies to provide mobility services and value-added services such as vehicle rental, private vehicle sharing, fleet management, used vehicle resale, and vehicle asset information management. They also plan to provide their customers with a driving experience that is both pleasant and secure, and to further evolve to automated driving and unmanned driving. All these services require a connected vehicle platform with advanced architecture, high scalability, cross-industry interconnectivity, and that can support new technologies. The platform needs to provide cloud-based mobility services to adapt to the rapid deployment and iteration of multiple service applications. Thanks to the ICT integrated Connected Vehicle platform, global public cloud services, and industry suites for connected vehicle services, Huawei has become a perfect strategic and technical partner for Groupe PSA to execute their "Push to Pass" strategy. In the near future, Groupe PSA will work closely with Huawei to support all their car factories and car models based on a global platform. Huawei expects to roll out connected vehicle services in eight regions by 2020, support more than 10 million connected vehicles, provide mobility services for over 180 countries, and help Groupe PSA achieve business success.