Singapore: A leader in digital government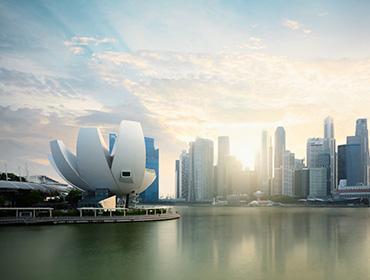 Since its earliest efforts to computerize the civil service in the 1980s, Singapore has always been an enthusiastic user of new technologies. Today, it is an undisputed leader in digital government.
In Emerging Technologies Make Their Mark on Public Service, Accenture surveyed almost 800 public service technology professionals across nine countries. The company found that senior public service leaders in Singapore are significantly better informed about most intelligent technologies than their American and European counterparts.1
In the 1990s, Singapore built one of the world's first national broadband networks. In the early 2000s, the government set up free Wi-Fi hotspots across the country.2 In 2014, Singapore launched its Smart Nation initiative, and significant progress has been made using digital and smart solutions to provide better services for citizens and businesses. These digital services are already having a major impact on life in Singapore:
The HealthHub app gives citizens access to hospital test results via smartphone.
The SG Secure app enables citizens to send video, photos, and messages to the police in emergency situations, for example, if they suspect a possible terrorist attack.
Smart electricity meters connect to the Smart Nation Sensor Platform, enabling accurate metering without having to go onsite.
The government agency GovTech has partnered with ride-sharing company Grab to release an app that lets commuters pre-book rides on private buses.3
These digital services have been designed using an "outside in" approach: The government looks at the problem from the perspective of a user, not a government agency. As a result, they offer simpler and faster user interfaces.
Singaporeans are also able to use freely available datasets to explore their own insights and make changes in their living environment. The website Data.gov.sg was created specifically for that purpose. Through interactive dashboards, data visualizations, and data-driven blog posts, the portal aims to make government data more relevant and understandable to the public, to enable citizens to make informed decisions in their own lives.4
The Singaporean government also encourages citizens and businesses to help shape how Singapore is developing as a Smart Nation. Citizens can start at the eCitizen ideas! Portal, where they can find and give input on all current public consultations. For businesses, the National Trade Platform enables the digital exchange and re-use of data between business partners and the government.5 Singapore's Smart Nation initiative is an excellent reference for other countries and cities around the world as they try to raise standards of living, build stronger communities, and create more jobs and opportunities for all.
---
1. Singapore can be a world leader in government innovation
2. Leading digital transformation
3. Smart nation and digital government
4. Leading digital transformation
5. Engagement & Co-Creation with Citizens & Businesses