Seeds for the Future
We are pleased to launch the 2018 Seeds for the Future program to include Paid Summer Work-Term.
About the Program
The Huawei Seeds for the Future work-study program offers undergraduate students an opportunity to travel to China for a two-week period.
During the first week, participants will be Huawei's guests in Beijing for an immersive introduction to Chinese language and culture. In week two, participants will stay in Shenzhen and work with the Huawei team in our Global Headquarters, learning about Huawei's international culture, strategy and values, and receive technical training from some of the finest professionals in the industry. Travel and accommodation will be provided by Huawei.
The 2018 Seeds for the Future program will be expanded to include a 14-week paid Summer work-term, where in addition to travelling to China for 17 days in late May, students will have the opportunity to work directly with Huawei's Canadian research team, while working out of Huawei's research facilities in Ottawa, Toronto and Waterloo, as well as Huawei's research partnership programs in Vancouver and Montreal.
Watch our video on the life changing experience from the class of 2016. Interested in an unforgettable career changing trip to China?
What do you need to be considered?
You are a 3rd year Engineering student looking for a life-changing experience.
Holder of a valid Canadian passport, valid until December 31st 2018
We have partnered with the following universities for the 2017 Canada Seeds for the Future program. They include: University of Ottawa, Carleton University, University of British Columbia, Polytéchnique Montréal, University of Waterloo, University of Saskatchewan, the University of Toronto, Simon Fraser University, University of Calgary and Western University.
Complete the application form, including an essay of no more than 500 words demonstrating an interest in China and your suitability for the program. Please include your full name, University and student ID #
Demonstrate excellent academic acumen
Have a strong interest in telecommunications and technology issues
Interest in China and Chinese culture would be an asset
Applications will be reviewed and an initial selection will be made by University representatives.
Final candidates will be selected by an independent jury composed of relevant ICT association, media and industry executives.
If you're interested in this once-in-a-lifetime opportunity, please apply using our convenient online application process.
Closing date for applications: March 18, 2018.
If you have any questions, please contact:
Gillian Cai
Public Relations Manager
Huawei Canada
e-mail: gillian.cai@huawei.com
Press
"Designed to help bridge the gap between school and work, 'Seeds for the Future' will help develop ICT talent in Canada, promote a greater understanding of the telecommunications sector and encourage participation in the international ICT community." – Techvibes
"The students get to see how it's done elsewhere. Maybe it will open their eyes, maybe that's where they will want to work later on… We are really trying to expand and get students to be more mobile." – Valérie Samson, University of Ottawa's Faculty of Engineering
"I am going to try to soak up as much as I can with this trip… ICT is such an evolving subject, so being a student (in this area) at this time is very promising for future endeavours, challenges and experiences." – Kathleen Rozman, Carleton University student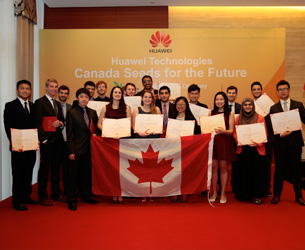 Huawei Canada announces 2018 seeds for the future program to include paid summer work-term
Huawei Canada program to send 20 engineering students to China for technological skills development
Three University of Toronto Engineers on Exchange in China
2016 Huawei 'Seeds for the Future' program expands to include more Canadian universities
Huawei Canada's 'Seeds for the Future' students chosen to embark on trip to China
Huawei launches 'Seeds for the Future' in Canada
Student Feedback
"The treatment we received on this trip was well over my expectations. The food, stay and activities were perfect. To conclude, I would like to thank Huawei for this great opportunity. My knowledge about the brand was small before, but I am glad to know a lot more now because I strongly believe that it will continue to grow, and that soon enough, Huawei will become a strong player in the North American market."
Mathieu Jolin,Polytechnique Montréal
"This overall experience was AMAZING! Everything went incredibly well and the group really got along quickly! I have made great friends. The Huawei classes definitely made my interest in telecommunications much bigger. I have now a better idea of what to focus on in my studies and a better idea of where I want to work!"
Etienne Dumont,University of Ottawa
"Overall, my experience in China, made possible by the incredible generosity of Huawei, was truly an unforgettable adventure that allowed me to see and touch into the future. I can see how and where my present studies can be applied. I am excited to know that there are such great opportunities in ICT and great opportunities within Huawei Technologies."
Kathleen Rozman,Carleton University